guy copland
Guy Copland is a former news anchor and radio personality who's been entertaining audiences of all ages across the country with his blend of comedy and magic for more than 40 years.
Growing up Guy became friends with Detroit television kid show greats Karrell Fox (Milky the Clown), Bob McNae (Bozo & Oopsy the Clown), and Larry Thompson (Mr. Woodini) through his WWJ-TV weatherman father Hugh Copland. With influences like them, Guy was destined to become a successful entertainer making people laugh. Book him today for your next event!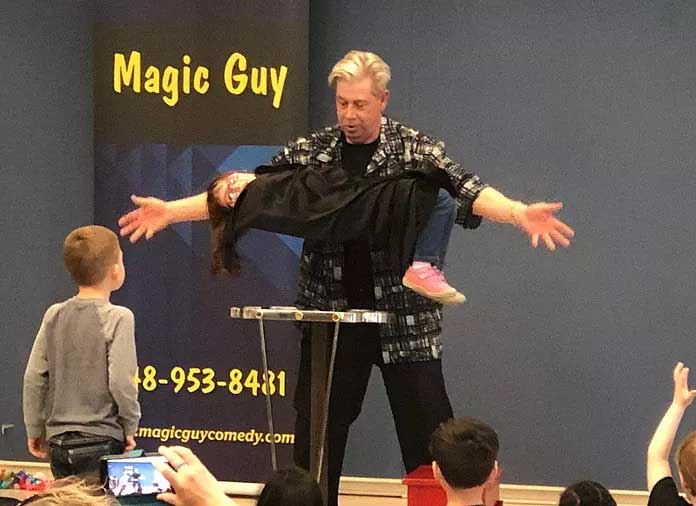 Like a moth to a flame or a rabbit to a hat, Guy Copland couldn't stay away from entertainment. As a personality on the radio and as a news anchor, he honed his skills grabbing the audience's attention and holding it.
Both of these careers require not only a love of communication and presenting, but also involve acting quick on your toes. Guy proved he was well equipped to keeping live audiences engaged.
Decades in the business led him to start combining his love of everyday comedy with his favorite magic tricks, leading to his illustrious second act as a magician for hire. Now, he's one of the best magicians in Michigan, wowing crowds on a daily basis with his bold personality, giggle fit-inducing comedy, and of course, amazing magic tricks. No matter the age of the audience or the type of event he's at, Guy Copland has a knack for drawing everyone in and getting the party started.
Guy's unique blend of comedy and magic was no accident, as he has been combining these two favorite entertainment tricks since before most of his audiences were born.
After leaving the anchor desk and the radio microphone behind, he wanted to find a way to showcase his personality, connect with audiences, and just plain have a good time. This led to him becoming one of the most sought after professional magicians in Michigan.
He's not just your run-of-the-mill magic man, either. He's all about the show, the theatrics, and of course, the laughs. Guy's goal is to make every single member of the party, audience or event feel as if they are involved. From grabbing assistants to asking jokes, he keeps the viewers active and engaged as he brings down the house.
What are you waiting for?
Guy's availability is sure to disappear in a POOF! Act fast and contact the Magic Guy today for your next event. He's ready to make your boring evening truly disappear and is sure to leave a lasting memory of fun with every single guest in attendance.
Home Logos